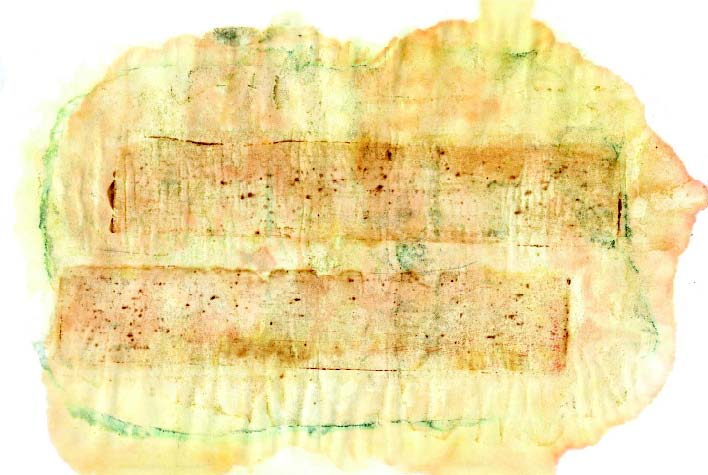 Valentino Albini
Dissolvenze
11 giugno - 30 giugno 2011
a cura di Gaspare Luigi Marcone
coordinamento: Neil Frazer Davenport
La Lakeside Art Gallery di Verbania è lieta di presentare la mostra personale Dissolvenze di Valentino Albini, a cura di Gaspare Luigi Marcone.
Tra gli anni Ottanta e Novanta Valentino Albini (1959) ha svolto la professione di fotografo nell'ambito della moda, del design e della pubblicità. Contemporaneamente ha portato avanti una sua linea di ricerca artistica, concentrandosi sulla tecnica del collage evolutasi nel corso degli anni in soluzioni tecniche e formali molto personali.
Il corpus di opere esposte nella mostra Dissolvenze evidenzia questa innovazione e maturazione di un percorso lungo e meditato. Albini è riuscito ad applicare la "dissolvenza" tipica del linguaggio fotografico e cinematografico a livello concettuale e materico su supporti cartacei usando "solventi" chimici. Scegliendo pagine di riviste commerciali, un materiale a lui congeniale per la sua esperienza fotografica, arriva a decomporle, mescolando i colori intrinseci delle immagini tramite l'uso di elementi chimici. L'artista né aggiunge né toglie nulla, ma diluisce e mescola il colore del supporto. È un percorso di attrazione e allontanamento, di decostruzione del mondo della pubblicità, della moda e dell'apparenza che però è allo stesso tempo il luogo di partenza, mentale e fisico, della sua prassi creativa.
Seguendo questa metodologia la serie denominata Croma è composta da lavori risolti come "sinfonie" di colori. Nelle Impronte invece Albini realizza delle "impressioni" su carta dopo aver cosparso di solventi le immagini delle riviste, realizzando una personale tipologia di monotipo; in questo caso emerge l'idea del "doppio" e della "traccia", della polarità tra negativo e positivo, tra appropriazione e allontanamento dall'universo mercificato e consumistico della contemporaneità.

Vernissage con la presenza dell'artista sabato 11 giugno 2011 dalle ore 18 alle ore 21.

Orari galleria:
martedì-venerdì 15.30-19.30
sabato 10.30-12-30 e 15.30-19.30
domenica su appuntamento, chiuso lunedì.
Valentino Albini
Dissolvenze
11 june – 30 june 2011
curated by Gaspare Luigi Marcone
coordination: Neil Davenport
Lakeside Art Gallery of Verbania is proud to present the solo show Dissolvenze by Valentino Albini, curated by Gaspare Luigi Marcone.
In the 1980s and '90s Valentino Albini (1959) worked as a professional photographer in the fields of fashion, design and advertising. At the same time he was already working on a strand of artistic research that focussed on a collage technique and evolved over the years as he adopted extremely personal technical and formal solutions.
The body of works on show in the exhibition Dissolvenze highlights this innovative approach and the maturation of a long and considered development. Albini successfully applies the "dissolvenza" or "fade" typical of the photographic and cinematographic idioms on a conceptual and material level using chemical "solvents" on paper. Selecting pages from commercial magazines, a material with which he is familiar from his photographic background, he decomposes the images, mixing their intrinsic colours through the use of chemical substances. The artists neither adds nor subtracts, but rather dilutes and remixes the colour of the support. It is a process of attraction and distancing, of the deconstruction of that world of advertising, fashion and appearance that is at the same time the mental and physical point of departure for his creative practice.
Using this method, the series entitled Croma is composed of works resolved as "symphonies" of colour. In his Impronte Albini instead generates "impressions" on paper after having soaked the magazine images with solvents, creating a personal kind of monotype. In this case we see the emergence of the idea of "duality" and residual "traces", of the polarity between negative and positive, between the appropriation of and a distancing from the commodified and consumerist universe of the contemporary.


The inauguration will take place on Saturday 11 June 2011 from 18.00 through to 21.00.

Opening hours:
Tuesday-Friday 15.30-19.30
Saturday 10.30-12-30 and 15.30-19.30
Sunday by appointment, closed Monday.