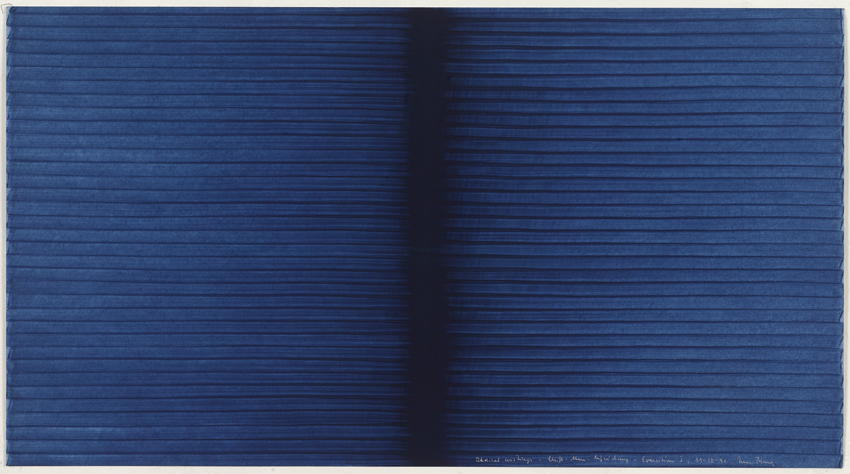 Irma Blank
Radical Writings (Carte)
16 aprile - 28 Maggio 2011
a cura di Gaspare Luigi Marcone
coordinamento: Neil Frazer Davenport
Irma Blank indaga il mondo e i rapporti comunicativi con l'ontologia della scrittura, prelogica, primordiale.

In mostra saranno presentati due gruppi inediti di sette lavori, realizzati nel 1991, ciascuno di 33 x 60 cm, ancora attualissimi nella loro forza e profondità concettuale, pur essendo stati concepiti esattamente vent'anni fa.

Nel ciclo dei Radical Writings l'artista tedesca traccia segni scritturali blu in fitta sequenza verticale, riducendoli a pura estensione, tensione fisica e ideale verso l'altro, segnando il percorso sospeso fra l'inizio e la fine, fra pieno e vuoto, in perfetta sintonia con l'espirazione: esercizio pratico e mentale e metafora della vita.

Il blu è un colore utopico e assoluto, come la filosofia di ricerca dell'artista, oltre ad essere il colore tipico dell'inchiostro. In ogni lavoro emerge il centro, denso e scuro, rinviando all'immagine del "libro aperto". Come scrive Gaspare Luigi Marcone nel testo in catalogo "Irma Blank ha trasformato il metodo in poesia"; la ripetizione, il rigore e l'insistenza ossessiva caratterizzano la ricerca pluridecennale dell'artista.

Come contrappunto saranno esposti due recenti piccoli appunti "calligrafici", Occidente/Oriente, in bianco e nero.

Sarà possibile ascoltare la registrazione sonora del "Respiro".

Irma Blank (Celle, Germania 1934). Artista di fama internazionale ha partecipato alle più importanti manifestazioni artistiche come Documenta di Kassel (1977), la Biennale di Venezia (1978) e la Quadriennale di Roma (1986, 2005); nel corso di più di quarant'anni di ricerca i suoi cicli di lavori Eigenschriften, Trascrizioni, Radical Writings, Avant-testo, Hyper-text, Global Writings sono stati esposti in rinomate gallerie e in prestigiosi musei e istituzioni internazionali come il PAC di Milano, il Centre Pompidou di Parigi, il Museo del Novecento di Milano e il M.o.M.A. di New York.

Vernissage con la presenza dell'artista sabato 16 aprile 2011 dalle ore 18 alle ore 21.

Orari galleria:
martedì-venerdì 15.30-19.30
sabato 10.30-12-30 e 15.30-19.30
domenica su appuntamento, chiuso lunedì.
Irma Blank
Radical Writings (Carte)
16 April – 28 May 2011
curated by Gaspare Luigi Marcone
coordination: Neil Davenport
Irma Blank investigates the world and communicative relationships through an ontology of prelogical, primordial writing.

The exhibition will feature two groups of previously unseen works, each 33 x 60 cm and displaying undiminished conceptual strength and depth despite being realised 20 years ago in 1991.

In the cycle Radical Writings, the German artist traces blue scriptural signs in a dense vertical sequence, reducing them to pure extension, a physical and ideal tension towards the other, marking an itinerary suspended between beginning and end, between solid and void, in perfect harmony with her exhalation: a physical and mental exercise as well as a metaphor for life.

The blue is a utopian and absolute colour, like the artist's research, as well as being the typical colour of ink. In each work emerges a dense, dark centre, referencing the image of an "open book". As Gaspare Luigi Marcone writes in the catalogue accompanying the exhibtion, "Irma Blank has transformed method into poetry", repetition, rigour and obsessive insistence characterising the artist's decades of research.

As a counterpoint, two recent black and white "calligraphic" notes West/East will also be exhibited and visitors will be able to listen to the sound recording "Breath".

Irma Blank (Celle, Germany, 1934). An artist of international renown, Blank has participated in the most important art events such as Documenta at Kassel (1977), the Venice Biennale (1978) and the Rome Quadriennale (1986, 2005). During over 40 years of research her cycles of works Eigenschriften, Trascrizioni, Radical Writings, Avant-testo, Hyper-text and Global Writings, have been exhibited in famous galleries and prestigious international museums and institutions such as the PAC in Milan, the Centre Pompidou in Paris, the Museo del Novecento in Milan and M.o.M.A. in New York.

The inauguration will take place on Saturday 16 April 2011 from 18.00 through to 21.00.

Opening hours:
Tuesday-Friday 15.30-19.30
Saturday 10.30-12-30 and 15.30-19.30
Sunday by appointment, closed Monday.